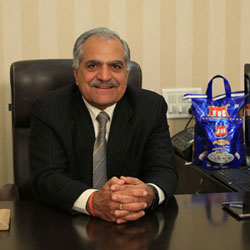 "I am delighted to introduce my company M/s Lekh Raj Narinder Kumar (LRNK) which deals in the Manufacture and Export of Quality Rice.
Right at the onset let me assure you that we at LRNK believe in business that ends into lasting relationship of trust and success.
We have set our vision higher to evolve into an organization which is vibrant & strong from within, powering execution with commitment & professionalism. Our team understands that complete customer satisfaction is the only success formula that can carry us far in a competitive industry. We have always been keen to add more & more offerings, encompassing the current trends in our Trade.
It's indeed a great feat to be recognised as a company of "Quality Products" with "Value for Money". It would be our constant effort and endless urge to stand above others on the quality bestowed on us through improvement & economies of scale in our manufacturing, supply chain and technology development processes and service functions.
Thanks once again for taking out your precious time for us and I hope you had informative experience. We look forward to do business with you."

Best Regards,
Shri Lekh Raj Miglani